Juvéderm Volux
Conveniently located to serve the areas of Sunset Beach, Newport Beach, Redondo Beach, Orange, Dana Point and Orange County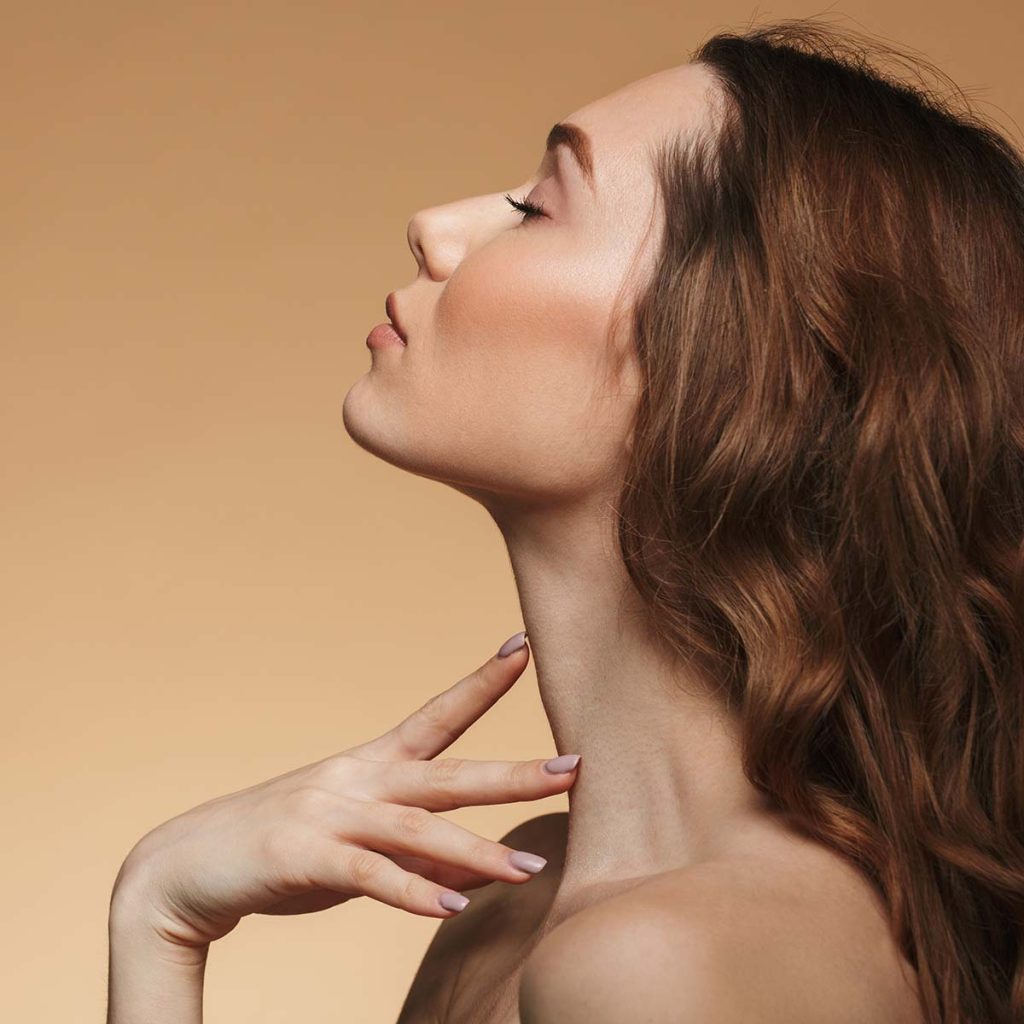 Juvéderm Volux is a new formulation in the Juvéderm hyaluronic acid filler family used to enhance the jawline. It is also an excellent choice for those who want to rejuvenate their appearance without undergoing surgery.
At DermFx, we offer Juvéderm Volux to our patients who want to achieve a more youthful jawline. It is effective in restoring lost volume, smoothing away wrinkles, and creating a beautiful, natural-looking contour. What's more, the results of Juvéderm Volux can last much longer than other fillers, making it an excellent long-term solution for facial rejuvenation.
With locations across Orange County and LA County, DermFx provides tailored dermal filler treatments to suit every facial rejuvenation need. Interested in finding out more about this advanced injectable filler? Call your nearest location or fill out an online form on our website for more details.
About Hyaluronic Acid Fillers
Hyaluronic acid is a natural substance found in the skin that helps it maintain its shape and structure. It's also the active ingredient in some of the world's leading dermal fillers, such as Juvéderm, Restylane, Belotero, and Versa. There are three key goals for treatment: (1)
The restoration of lost facial volume
The enhancement and/or balancing of facial contour
Maintaining a youthful appearance.
Are all HA Fillers Created the Same?
Not at all. The reason why there are so many HA filler brand names is because every formulation is slightly different. They are made from gels of varying viscosities, which can be selected for their particular attributes to address certain specific areas of the face. They can also be injected into precisely the right area at varying depths to achieve the most effective results. Thinner formulations tend to spread farther, and are generally used more superficially, whereas firmer fillers tend to keep their shape and stay in place. For this reason, they are injected deeper into the skin.
How is Juvéderm Volux Different?
The unique formulation of Juvéderm Volux sets it apart from other HA fillers. The formula contains a higher concentration of cross-linked HA molecules, which allows it to last longer and provide a more durable result. Additionally, Juvéderm Volux has an improved texture that gives it greater malleability. This allows your skin expert to shape and contour the jawline precisely to create beautiful, natural-looking results.
Results that Last
Juvéderm Volux has been specifically designed for the jawline. Its proprietary formulation is one of the longest-lasting on the market, with results you'll see for up to 18 months. Not only is Juvéderm Volux safe and effective, it's also a durable alternative to surgical treatment. What's more, the treatment results speak for themselves, with high patient satisfaction rates confirmed by study data. (2)
Benefits
Juvéderm Volux reduces the appearance of a diminished jawline. The product is specifically formulated to give an extra lift in the jawline and chin area, creating a younger, more attractive profile. Here are some of the advantages you can enjoy with Juvéderm Volux:
Long-lasting – effects can last 12-18 months
Natural-looking results
Quick procedure that requires minimal downtime
Improved contour and definition of the chin and jawline
Reduced wrinkles and deep folds
Immediate effects seen after the procedure
Improved confidence in your appearance
Candidates
Because it is made from a substance that occurs naturally in the body, Juvéderm Volux is a facial rejuvenation option for a wide range of patients. Good candidates for Juvéderm Volux are those who are looking to add volume and definition to the face, chin, and/or jawline. It is important that patients understand that Juvéderm Volux is not a substitute for surgery and is not recommended for those seeking dramatic changes.
Personal Consultation
At DermFx, we are proud to offer Juvéderm Volux as a treatment option for our patients. During your personal consultation with one of our experienced and highly trained practitioners, they will assess your facial anatomy and discuss your goals. They will then recommend the best approach to achieve the desired outcome. Depending on the amount of volume you would like to add, you may need more than one syringe of Juvéderm Volux. Our practitioner will discuss all the details and answer any questions you may have prior to beginning treatment.
Procedure
During your Juvéderm Volux treatment, a tiny needle will be used to inject the filler directly into the target area. Depending on the extent of your treatment, the procedure typically takes less than 30 minutes and can be completed in one session.
Recovery & Results
After Juvéderm Volux injection, the targeted sites may be red, swollen, tender, and/or bruised. These symptoms are normal and typically resolve within a few days. Swelling can be managed with cold compresses and discomfort can be easily managed with over-the-counter medication. Patients can expect to return to their daily activities without any downtime and exercise within 24-48 hours. Once you've fully recovered from your Juvéderm Volux procedure, you'll notice a smoother, firmer face with improved contours and enhanced definition.
Corresponding Procedures at DermFx
Restylane
Restylane is another hugely popular HA filler series. The Restylane family of fillers includes Restylane Kysse, Restylane Silk, Restylane Lyft, Restylane Refyne, and Restylane Defyne. Like the Juvéderm range, each product is specifically designed for the volumization and accentuation of different areas and needs. 
Belotero
Belotero is a facial filler made from hyaluronic acid that helps to restore volume and improve the appearance of wrinkles and fine lines on the face. It is specifically designed for use in delicate areas of the face, such as the lips, around the eyes, and in areas where there is thin skin. Belotero is formulated to be thinner than other dermal fillers, allowing it to more easily integrate with the contours of your face. As a result, you can enjoy results that look smoother and more natural.
Cost of Juvéderm Volux in Orange County, CA
The cost for Juvéderm Volux varies from patient to patient depending on the extent of the treatment needed. The cost of the product itself and the number of syringes required will determine the cost. For an accurate estimate of the cost of your treatment, please schedule a consultation with one of our experienced practitioners at your nearest DermFX location. Alternatively, you can fill out a simple inquiry form and we will get back to you as soon as possible.
Find out more about the latest dermal fillers by reading the DermFX blog. You can also like and follow DermFX on our Instagram, Facebook, and YouTube pages.
FAQ
How long does Juvéderm Volux last?
The results of Juvéderm Volux can last up to 18 months, although the exact duration of your results will depend on the rate at which your body absorbs the filler.
Is Juvéderm Volux better than Restylane Lyft?
Juvéderm Volux is an effective way to treat facial volume loss, and a poorly-defined chin and jawline. Restylane Lyft and Restylane Defyne can be used for the same purpose, however the filler you choose will ultimately be determined by your individual needs. In most cases, your treatment will require a personal consultation with an injectables specialist before the procedure itself.
Are there any side effects associated with Juvéderm Volux?
Patients may experience some swelling, redness, bruising, itching, or tenderness around the injection site. These side effects are typically mild and short-lived, lasting only a few days.
References
Walker K, Basehore BM, Zito PM. Hyaluronic Acid. Nih.gov. Published October 7, 2019. https://www.ncbi.nlm.nih.gov/books/NBK482440/ 
Ogilvie P, Benouaiche L, Philipp-Dormston WG, et al. VYC-25L Hyaluronic Acid Injectable Gel Is Safe and Effective for Long-Term Restoration and Creation of Volume of the Lower Face. Aesthetic Surgery Journal. 2020;40(9):NP499-NP510. doi:https://doi.org/10.1093/asj/sjaa013 
Devices & Radiological Health R. JUVÉDERM VOLUX XC – P110033/S065. FDA. Published online August 15, 2022. https://www.fda.gov/medical-devices/recently-approved-devices/Juvéderm-volux-xc-p110033s065