Intracel Microneedling
Conveniently located to serve the areas of Sunset Beach, Newport Beach, Redondo Beach, Orange and Orange County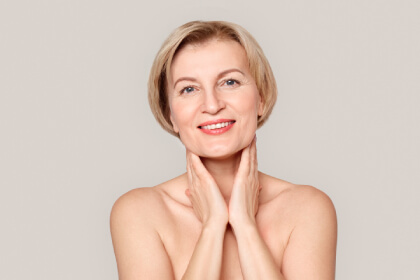 INTRAcel fractional radiofrequency microneedling (FRM) is the next step in microneedling technology, allowing for precise, customizable skin resurfacing treatments. Microneedling causes tiny controlled injuries to the targeted area which stimulates skin remodeling and the production of collagen. It can help patients improve a number of skin conditions, including acne scars, wrinkles, enlarged pores, and more.
Microneedling is a skin resurfacing technique that avoids the use of harsh chemicals or intense lasers. However, until now, standard microneedling has not been as effective for deeper, narrower "ice pick" scars. With four distinct treatment modalities, INTRAcel FRM now makes up the difference using multi-layer to address superficial skin issues and deeper scars.
Find the right microneedling treatment for you at DermFX! With five locations in Orange County and LA County, we'll help you choose the most appropriate procedure for your needs. To get started, book a personal consultation with us at your nearest location by filling out an inquiry form, or by calling us directly.
Sunset Beach: (562) 592-5100
Newport Beach: (949) 548-8812
Redondo Beach: (310) 316-2100
Dana Point: (949) 487-5180
Orange: (714) 516-9588
Before and After Photos
About Fractional Radiofrequency Microneedling
Fractional RFM uses a handpiece with slim, electrode-like insulted needles. These fine needles create thermal wounds at a controlled depth and intensity. They deliver energy to different layers of the skin, depending on the condition being treated, the deepest of which is the deep reticular dermis. (1) 
INTRAcel FRM can treat the following conditions.
Acne Scars
Ice Pick Scars
Skin Laxity
Spider Veins
Stretch Marks
Uneven Texture
Visible Pores
Wrinkles
What is Fractional Radiofrequency?
Radiofrequency treatments use heat energy to cause controlled trauma in the skin, triggering the production of new collagen and improving skin condition. "Fractional" refers to the controlled targeting of one particular area at a time. Treatments like INTRAcel FRM remodel problem areas in the face and elsewhere, helping patients achieve a smoother and fresher-looking appearance.
One research study revealed a staggering 93% average improvement after just one FRM treatment with the INTRAcel device. (2)
Benefits
Precisely delivers energy to the treatment
Controlled treatment depth and intensity
Adjustable to fit patient needs
Reduced risk of complications
Greater skin protection than other treatments
Minimal discomfort, minimal downtime
High patient satisfaction rates
For Acne Scars
Acne scars are not only unsightly, they can also negatively affect a patient's self-esteem and overall quality of life in many cases. They are grouped as hypertrophic (raised) and atrophic (concave). There are three classifications of atrophic acne scar: (3)
Boxcar: Medium-depth, square edges
Rolling: Shallow, curved edges
Ice-Pick: Deep, steep edges
Ice-pick acne scars can be troublesome to treat. Prior research has indicated that standard microneedling is not as effective in ice-pick scars compared to rolling, and boxcar scars. (4) However, RFM has shown itself to be highly effective in reducing their appearance in a minimally-invasive, reduced-downtime procedure. (2)
For Stretch Marks
Stretch marks can appear due to rapid weight gain, rapid weight loss, pregnancy, or simply because of our genetics. In fact, it is estimated that 7 out of 10 people with stretch marks have a family history of them. (5) Known as "striae", these marks can be white or reddish-purple in color, and once they appear, they are permanent. 
Unfortunately, there are very few treatment options for patients with visible stretch marks. However, the adaptability of INTRAcel RFM means patients can not only treat facial skin issues but also deal with stretch marks on the hips, inner thighs, and abdomen effectively.
Microneedling Candidates
Most people who desire microneedling treatment for their skin problems can receive it. However, it is not the best option for some patients. Factors that could make INTRAcel treatment challenging include the following. (6)
Active inflammatory acne
Active cold sores
Moderate-to-severe eczema or psoriasis
Extreme likelihood of keloid scarring
Please speak to us if you have recently undergone Botox, Dysport, Xeomin or another injectable treatment such as Juvéderm or Restylane. We may recommend waiting at least 2 weeks before getting microneedling, to ensure your smoothed, plumped results are maintained, and to ensure the injectable does not migrate to a different area than intended. 
Personal Consultation
At DermFX we tailor our procedures to every individual who walks through our doors. We start the process by inviting them to a one-on-one skin consultation. We will ask you to give us some details on the areas you want to treat with RF microneedling, then we'll take a look at your skin's texture and elasticity.
After you have gone through your goals with us, we will review your medical history and discuss any relevant details that arise. After this, we will determine if INTRAcel RF microneedling is the right treatment for your needs.
Book your personal consultation online with a DermFCX skin specialist now in Sunset Beach, Newport Beach, Redondo Beach, Orange, or Dana Point. Call your nearest location, or fill out our simple inquiry form for further details.
RF Microneedling Procedure
There are three key modalities with the INTRAcel System.
Superficial RF Rejuvenation (SRR Mode)
SRR Mode is for superficial treatments that only, treating the topmost layer, the epidermis. RF energy passes through 0-0.3mm of skin. After contact with the surface of the skin, the handpiece emits RF waves, after which thermal coagulation (damage) occurs, enabling superficial remodeling of minor skin imperfections. T-Mode can also be used in this non-microneedle modality, which enables RF to be used in conjunction with nourishing topicals for skin maintenance.
The FRM Bipolar mode remodels at a depth of between 0.5-2mm, targeting the epidermal layer and the lower level just beneath it, the papillary dermis. After contact, the array of slim microneedles are deployed and RF energy is activated. Thermal coagulation stimulates collagen production in the middle layers of the skin.
The most effective treatment modality for more severe skin issues, FRM Monopolar targets the deepest layer, the reticular dermis. Monopolar treatments have active electrodes that penetrate the skin and a grounding electrode for comprehensive skin remodeling, allowing patients to deal with deeper scars and stretch marks.
Corresponding & Complementary Procedures
Agnes RF Microneedling
As well as INTRAcel, DermFX offers a second beneficial RF microneedling device, depending on the location of your treatment. Receive the same level of accuracy in the treatment of scars, facial wrinkles and lines and more with Agnes RF Microneedling!
ClearLight Acne System
Troublesome acne causing you to feel bad? Beat it with the ClearLight Acne System, a drug-free acne treatment alternative to clear and refresh your skin by killing one of its root causes, bacteria.
Morpheus8
Morpheus8 is a skin rejuvenation treatment device that helps patients to achieve smoother, firmer skin with improved overall tone and texture. Like RF microneedling, Morpheus8 uses highly effective RF technology to help you look your best.
HydraFacial
Receive a luxurious three-stage dermabrasion treatment powered by Vortex-Fusion technology. A HydraFacial treatment suctions away dead skin and impurities for glowing, hydrated, rejuvenated skin.
Cost of RF Microneedling in Sunset Beach, CA
The experts at DermFX customize every RF microneedling treatment plan to each patient's individual goals.The cost of your INTRAcel RFM treatment will depend on the conditions you want to treat and the number of sessions you opt for. Some of our best results come from several treatment sessions spaced a few weeks apart. To get more information about microneedling with INTRAcel, call one of our locations below, or complete this form to receive more details.
Sunset Beach: (562) 592-5100
Newport Beach: (949) 548-8812
Redondo Beach: (310) 316-2100
Dana Point: (949) 487-5180
Orange: (714) 516-9588
Read about more effective skin treatments on the DermFX blog!
FAQ
Is RF microneedling a short procedure?
It depends on what you are treating. More superficial treatments may be completed in under 30 minutes, while other, deeper, treatments can take around one hour total.
Can RF microneedling fix deep acne scars?
Yes! The monopolar function in treatments like INTRAcel RF can treat deeper "ice-pick" -type acne scarring.
Does RF microneedling need anesthesia?
A topical numbing agent is applied to the skin prior to RF microneedling.
References