DermFx Botox Express
Conveniently located to serve the areas of Sunset Beach, Newport Beach, Redondo Beach, Orange, Dana Point and Orange County
All Aboard the Botox Express!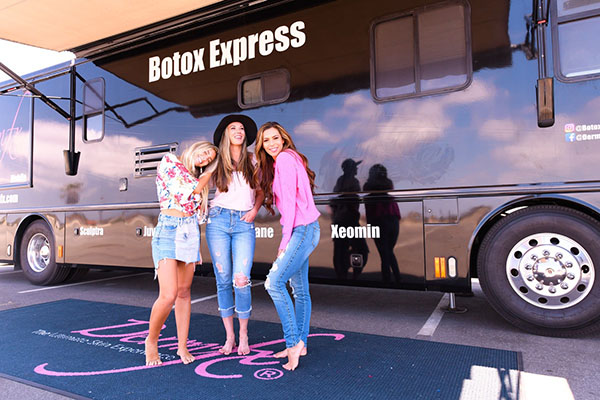 The Botox Express is a mobile medspa operated by DermFx of Orange County. By transforming a 40-foot RV into a self-care haven we can better accommodate our busy clientele. This is the quick and easy skincare solution Botox and filler fans have been waiting for! 
The gorgeously redesigned interior of our RV features a lobby with pink leather chairs where you can relax while we check you in. Our friendly staff will offer you a cold drink, a snack, or a beverage from our cappuccino machine. You will feel supremely pampered!
You can find the Botox Express at our beautiful Dana Point location, or invite us to your next private event. Also, look for us at the biggest parties around Southern California like The Long Beach Grand Prix, The Orange International Street Fair, The Anaheim Women's Expo, and more!
We are now conveniently booking appointments online for injectables in the Botox Express, or call us at (562) 592-5100 to make an appointment.
About DermFx
DermFx is a full-service aesthetic clinic with offices in Sunset Beach, Newport Beach, Redondo Beach, Orange, and Dana Point. We have been serving the people of Orange County and Los Angeles for over 20 years. Number one in almost every category in the beauty industry, our clients recognize us for offering the leading aesthetic treatments and procedures, and always staying ahead of the game. Interested in learning more? Consultations are always free! Fill out this form, and we will contact you directly, or call (562) 592-5100.
Check out our blog to learn more about our services and our fabulous locations!
Step Inside the Botox Express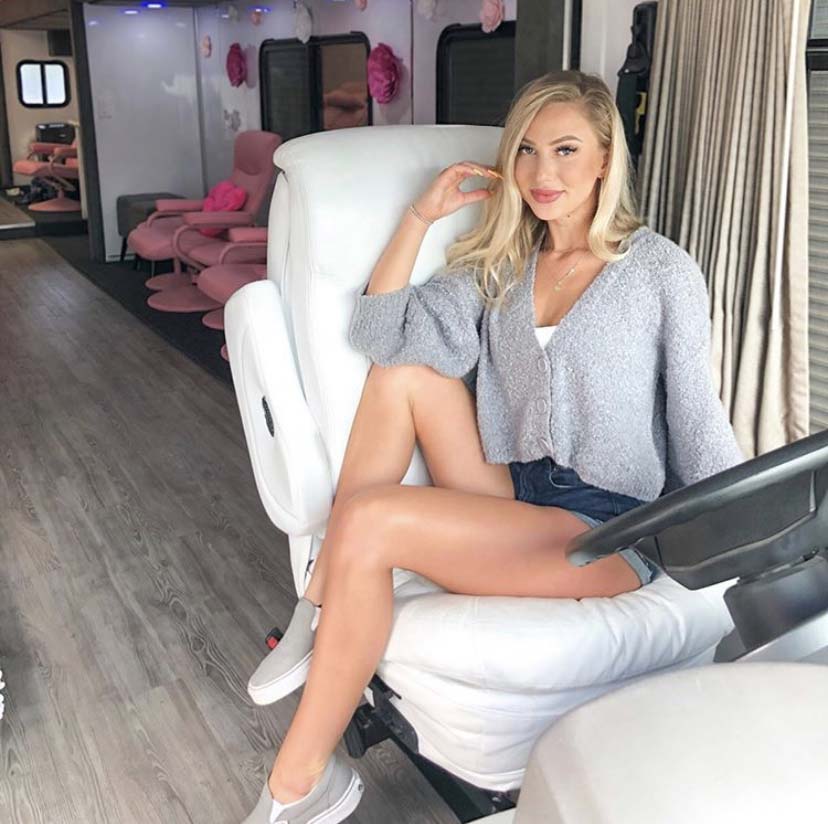 You will not believe the careful attention to detail and luxury that went into the transformation of a 40-foot RV into a mobile medspa. She is chic, pristine, and spacious!
You can find the Botox Express parked at our Dana Point location, a quick hop away from breezy Dana Point harbor. 
The beauty of booking an on-the-go service with the Botox Express during your lunch hour is that you will still have time to grab a bite at a nearby restaurant or do some shopping before heading back to the office or picking up the kids. Convenience is key!
Come On In; The Filler is Fine!
Step into our air-conditioned lobby, which features pink leather chairs and spacious accommodations, where we will offer you an espresso drink, snack, or cold beverage. After checking in, head back to the treatment room – this is where the magic happens.
Don't be fooled by the fact that you are in a mobile medspa; the Botox Express treatment room is identical to what you will find at our brick-and-mortar locations. All of our services are administered by an experienced nurse injector using the same care and precaution we use at our other locations. Your safety and comfort are our top priority.
After your service, snap a selfie at our floral selfie wall, and share your results with the world! Don't forget to tag us on your socials: @Dermfx.
And did we mention you can invite us to your next event? Read on!
Book our Mobile MedSpa For Your Next Event
How thrilled (and impressed) will your friends be when the Botox Express rolls up to your bridal shower, birthday party, or book club? (Don't worry, we can melt those "surprised" forehead wrinkles away with one of our wrinkle relaxers.)
Any event where a fabulous group of aesthetically-minded friends gathers is a great excuse to invite the Botox Express. Laugh with your friends while we fill in laugh lines and you experience Real Housewives-level luxury.
With a treatment minimum of $5,000, a Botox Express party will easily fit your budget while adding a one-of-a-kind experience that will leave people talking. The best part? When your friends book us for their next event and invite you!
What Services Does the Botox Express Offer?
We are now booking appointments for injectables at our mobile medspa Botox Express. Call us at (562) 592-5100 or book online! 
Choose from the following services:
Injectables (30 minutes)

Choose a dermal filler that best suits your desired outcome. The purpose of fillers is to volumize and accentuate your facial contours for natural-looking results. Additionally, they will soften lines and wrinkles around the nose and mouth, so turning back that clock in a snap!
Dermal Filler + Wrinkle Relaxer (45 minutes)

Pair your unique choice of dermal filler with one of our wrinkle relaxers. Expression lines and wrinkles will be a distant memory.
Wrinkle Relaxer (15 minutes)

Erase wrinkles from the equation; who needs them? We offer the best wrinkle relaxers on the market today.
Vitamin Injection (15 minutes)

Choose from B12, B5, B6, B Complex, and other vitamins your body needs. Vitamins make you B-eautiful!
What Products Do We Use in the Botox Express Use?
We use top-of-the-line dermal fillers and wrinkle relaxers to increase our clients' peace of mind.
Which Filler is Right For You?
A collagen gel filler like Bellafill is a safe semi-permanent soft tissue filler with widespread patient satisfaction. (1) Hyaluronic acid fillers offer unparalleled tissue integration and material distribution for sustainable aesthetic effects. (2) Choose from a great line-up of hyaluronic fillers like Belotero Balance, Juvéderm (Ultra XC or Ultra Plus), Versa, or Restylane. Another of our filler options is Radiesse, made from calcium. Synthetic calcium fillers are biocompatible and have been used for over 20 years in medicine. (3) Made from poly-L-lactic acid, or PLLA, Sculptra is a multi-service treatment injected over a few months, replacing lost collagen deep within the dermis.
Which Wrinkle Relaxer Should You Choose?
Wrinkle relaxers are a fast way to look refreshed. Dysport and Botox are neuromodulators that inhibit acetylcholine (the main neurotransmitter of the parasympathetic nervous system) release, causing temporary paralysis of the treated muscles. (4) For pesky "worry lines" between your eyebrows, our clients love the FDA-approved Jeuveau and prescription Xeomin.
But don't worry; we are here to guide you along the way. Talk to our knowledgeable staff about which products will take you from "No," to "Whoa!" on the go.
What are the Benefits of Fillers and Botox?
The passage of time doesn't mean you have to give in to the limitations of aging skin. Science steps in as the face naturally loses fullness and its youthful glow. Looking your best means you feel your best, which can affect every area of your life. Who can put a price on that level of confidence? Free your mind from the fixation on imperfections so you can get out there and enjoy life!
Who is a Good Candidate for Fillers and Botox?
People looking for a non-invasive way to improve the look of fine lines, wrinkles, or the structure of the face is a candidate for fillers and botox.
Personal Consultation
The Botox Express, just like all of our locations, features an experienced staff ready to answer your questions. We want to understand your goals and what skin issues currently affect you so we can help you decide which procedure or procedures to choose. So don't wait for permission to treat yourself to a more youthful look. Call us today at (562) 592-5100 to schedule your FREE 15-minute consultation and be on the path to a new you. Don't forget to ask about our current specials!
Preparation For Your Visit
Before joining us in our beautification mobile, the Botox Express, you should adhere to the following guidelines as closely as possible for the best results:
Do not take blood-thinning medications and painkillers.
Do not drink alcohol the day before your appointment.
Disclose any allergies or past reactions to medicine.
As always, we are here to answer your questions, so please don't hesitate to give us a call at (562) 592-5100.
Mobile MedSpa Procedures
When you arrive, our staff will ensure you are ready to receive your injectable (please see Preparation) before numbing the site and getting to work. Your nurse injector will administer your choice of dermal filler or wrinkle relaxer, and before you know it, you'll be snapping a selfie in front of our selfie wall. It's as easy as 1-2-See you soon!
What is the Recovery Time with Filler and Botox?
Who has time to wait? Be in, out, and on your way with the Botox Mobile! Our mobile injectables will have you out the door in a flash. You can get back to work and life right after your appointment with no recovery time.
What are the Results of Filler and Botox?
Noticeable results will vary depending on which injectable you choose and other factors like your body chemistry. Talk to our staff about the specifics of the injectable you are interested in receiving.
How Much is Botox in a Mobile MedSpa?
Our mobile medspa Botox Express is a great way to improve your look in minutes, and our services won't break the bank.
Pricing:
Wrinkle Relaxers
Botox – $10/unit
Xeomin – $9/unit
Dysport – $3.25/unit
Lip Flip – $150
Fillers
Versa – $500/1.2ml
Juvéderm Ultra XC, Juvéderm Ultra Plus, Volbella, or Vollure – $600/ml
Restylane, Kysse, Defyne, Refyne or Lyft – $600/ml
RHA 2, 3 or 4 – $600/ml
Belotero $600/ml
Radiesse – $600/1.5ml
Sculptra – $600/vial
Voluma – $650/ml
Restylane Contour – $650/ml
Bellafill – $700/ml
Other Injectables
Resources