Hydrafacial
Conveniently located to serve the areas of Sunset Beach, Newport Beach, Redondo Beach, Orange, Dana Point and Orange County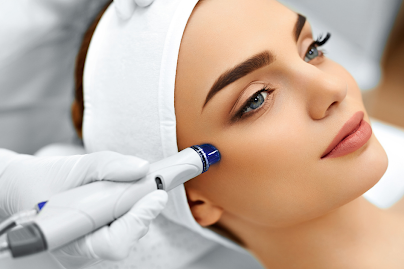 A HydraFacial is a customizable three-stage dermabrasion treatment that can transform dull, tired-looking skin using vortex technology. This powerful, yet gentle skin resurfacing treatment is earning its reputation as a comfortable, effective way to improve the appearance of facial skin. We use interchangeable tips on a specialized handpiece that can refresh and exfoliate facial tissues, delivering a tailored blend of skin-supporting nutrients deep into the epidermis. And, our advanced treatments such as the HydraFacial Signature, HydraFacial Advance, and HydraFacial Elite even offer customizable skin-boosting topicals and add on therapies!
One of the great things about a HydraFacial is that it's gentle enough for all skin types. It can even be used to shrink enlarged pores, reduce redness, and help balance oily complexions. For patients who struggle with dull, tired-looking skin, it can slough away dead skin cells and debris to reveal fresher, softener skin beneath. What's more, this treatment is so versatile that it can give aging skin an extra boost of hydration, and a rosy glow of vitality.
DermFX is your one-stop shop for skin rescue! With five locations across Southern California, we provide invigorating HydraFacials for our patients that are a simple, effective and luxurious way to treat yourself and take care of your skin. Book an appointment with one of our specialists by filling out an online form, or contact your nearest DermFx location using the information below.
Newport Beach: (949) 548-8812
Sunset Beach: (562) 592-5100
Dana Point: (949) 487-5180 
Orange: (714) 516-9588
Redondo Beach: (310) 316-2100
Before & After Photos
Before and After Photos
What is a HydraFacial?
The HydraFacial Difference
Many microdermabrasion treatments use tiny abrasive crystals to resurface skin, however a HydraFacial is different. It uses high-pressure water and suction to gently but effectively clear away excess dirt and oil. These techniques are proven to even skin tone, brighten complexion, reduce the appearance of dark spots, lessen the appearance of wrinkles, unclog pores and improve skin smoothness.(1)
HydraFacials are suitable for people with the following skin conditions.
Active Acne
Acne Scarring
Age Spots
Blackheads
Blemishes
Dry Skin
Enlarged Pores
Fine Lines
Hyperpigmentation
Oily Skin
Photodamage (UV overexposure)
Uneven Skin Tone
Wrinkle
Clogged Pores
Hydration is a key indicator of skin health. It's important for the maintenance of a strong skin barrier function for both cosmetic and medical reasons.(2) Healthy skin looks good, and protects us from the environment around us. If you find your skin is either too dry or too oily on a regular basis, your skin may be suffering from moisture depletion or imbalanced hydration. A HydraFacial can provide skin with the topical "actives" needed to rebalance and maintain healthy moisture levels.
Our patients love HydraFacial because:
It can strengthen the natural protective skin barrier.
It's one of the most powerful non-invasive skin resurfacing systems.
An in-office procedure is over in only 30 minutes.
It's a combined treatment that can improve many different skin conditions.
How Does a HydraFacial Work?
The HydraFacial system revitalizes your skin in three easy stages.
Stage 1: Cleanse + Peel

We start with gentle exfoliation to lift excess dirt and dead skin away from the skin's surface.
Stage 2: Extract + Hydrate

In the second stage, painless suction clears pores while intense moisturizer provides hydration to nourish deep into the skin.
Stage 3: Infuse + Protect

Finally, we liberally apply healing and strengthening antioxidants to protect your skin, providing a glowing finish.
Candidates for HydraFacial
HydraFacials are so versatile, they're suitable for nearly every skin type! If you use Accutane or other high-strength prescription acne treatments, we advise you to stop a few months in advance of a HydraFacial treatment. Similarly, we also advise you to let us know if you're using topical acne treatments, so we can tell you when the best time to stop these would be. Patients cannot get a HydraFacial treatment if they have an active cold sore outbreak.
Personal Consultation
Your skin deserves first-class treatment. That's why we invite you to discuss the issues you have and your aesthetic goals with one of our specialists. We'll take some brief details about your general health and if you suffer from any skin conditions that would be improved with a HydraFacial. After we have examined your skin quality and laxity, it's a simple case of booking you in for your HydraFacial appointment!
HydraFacial Classic
The hydrafacial classic is the go-to treatment for first-timers! It detoxifies skin by suctioning away pore-clogging dead skin cells, then replenishes with nutrients for long-lasting moisture. You'll feel the difference and see a refreshed rosy glow immediately after your procedure.
HydraFacial Signature
Like the HydraFacial Classic, only with an extra boost! The HydraFacial Signature procedure includes everything you'd find in a standard HydraFacial, but adds one of our skin-enhancing boosters. Signature patients can choose either Dermabuilder or Britenol.
Dermabuilder Booster: HydraFacial's Dermabuilder helps smooth the appearance of wrinkles and fine lines. Its unique peptide formula can enhance skin elasticity for increased skin radiance.
Britenol Booster: The Britenol formula can help patients address skin pigmentation issues. Brightening agents alpha-arbutin and bearberry extract combine with the antioxidant properties of Vitamin C to balance skin tone and minimize dark spots.
HydraFacial Advance
As well as including our Classic treatment, our HydraFacial Advance option offers you the choice of adding boosters to your treatment or an add-on therapy. Choose any two of the following boosters: Dermabuilder, Briternol, Growth Factor Boost, OR one of the following add-on therapies: Lymphatic, Red Light, or Blue Light.
Growth Factors: Our enhanced Growth Factor formula can restore skin vitality! Growth factors are naturally occurring proteins that aid healthy cell production. They work to strengthen the structure of your skin to make it stronger and promote rejuvenation.(3)
Lymphatic Therapy: Revitalizes your skin by removing toxic buildup on the skin's surface that can make your skin look tired and dull. Lymphatic therapy can decrease inflammation and reduce swelling for calmer-looking, balanced skin.
Red Light Therapy: Near-infrared LED light therapy is like the cherry on top add-on for the HydraFacial. It may reduce inflammation and stimulate the production of new collagen in the body.
Blue Light Therapy: Blue LED light can address troublesome skin conditions that clog pores and cause blemishes. This add-on targets and disrupts p. acnes, the bacterium thought to play an important role in the development of acne vulgaris.(4) Blue light can also be used to improve the appearance of oily, breakout-prone skin.
HydraFacial Elite
The HydraFacial Elite procedure is a comprehensive skin revitalization treatment! It can revamp your skin and give it the support it needs to look and feel healthy. Highly customizable options and a wider selection make this premium HydraFacial service the best of the best! Receive the HydraFacial Classic with two boosters of your choice, and add on one therapy for a luxurious combined treatment to improve your skin health.
HydraFacial Elite patients can choose any two of the following boosters: Dermabuilder, Briternol, Growth Factors AND one of the following add-on therapies: Lymphatic, Red Light, or Blue Light.
Contact our knowledgeable staff at your nearest DermFx med spa location in Redondo Beach, Newport Beach, Dana Point, Orange, or Sunset Beach to find out which HydraFacial service is best for your unique skin requirements! Book your appointment online and select your local DermFx office.
Cost of a HydraFacial in Orange County
Our HydraFacial treatments are competitively priced and tailored to individual skin considerations! Find your ultimate skin experience here by selecting from our wide variety of HydraFacial services.
HydraFacial Services at DermFx
| | |
| --- | --- |
| Hydrafacial Classic | $199 |
| Hydrafacial Signature | $250 |
| Hydrafacial Advance | $300 |
| Hydrafacial Elite | $370 |
| – | |
| HydraFacial Add-Ons | |
| Britenol | $50 |
| Dermabuilder | $50 |
| Blue Light | $50 |
| Red Light | $50 |
| Lymphatic Massage | $50 |
| Growth Factors | $95 |
We offer residents of LA and Orange County invigorating, beautifying aesthetic treatments for the face and body. Contact DermFx to find out more about our customizable HydraFacial services!
Newport Beach: (949) 548-8812
Sunset Beach: (562) 592-5100
Dana Point: (949) 487-5180 
Orange: (714) 516-9588
Redondo Beach: (310) 316-2100
FAQ
Can I get a HydraFacial if I have acne?
A HydraFacial is suitable for all skin types and can help to address common problems associated with acne vulgaris such as hyperpigmentation, excess oil, uneven texture, and large pores. Some med spas offer HydraFacial add-on services, which can include blue LED light therapy, which is known to disrupt the bacteria responsible for acne.
Is a HydraFacial suitable for sensitive skin?
HydraFacial hydradermabrasion is one of the safest skin resurfacing options for people with sensitive skin. There are no irritating microcrystals like with some other common microdermabrasion procedures. It uses high-pressure jets of water and gentle suction to remove dirt and debris, so it's much gentler than many other minimally-invasive treatments. Speak to a skin specialist to find out how your sensitive skin can benefit from a HydraFacial.
How can I customize a Hydrafacial treatment?
Many HydraFacial options offer highly customizable add-ons in the form of skin-strengthening boosters and beneficial therapies. Booster options can include smoothing peptides, balancing brightening agents, skin tone-evening vitamins, and skin scaffold-supporting growth factors. Add-on therapies can include detoxifying lymphatic drainage, energizing red light therapy, and oil-balancing blue light therapy.
How long is a HydraFacial session?
A standard HydraFacial session is over in as little as 30 minutes. Depending on the skin boosters you choose and if you have selected add-on therapies, other HydraFacial options may be between 40 and 60 minutes.
References