Kybella
Conveniently located to serve the areas of Sunset Beach, Newport Beach, Redondo Beach, Orange, Dana Point and Orange County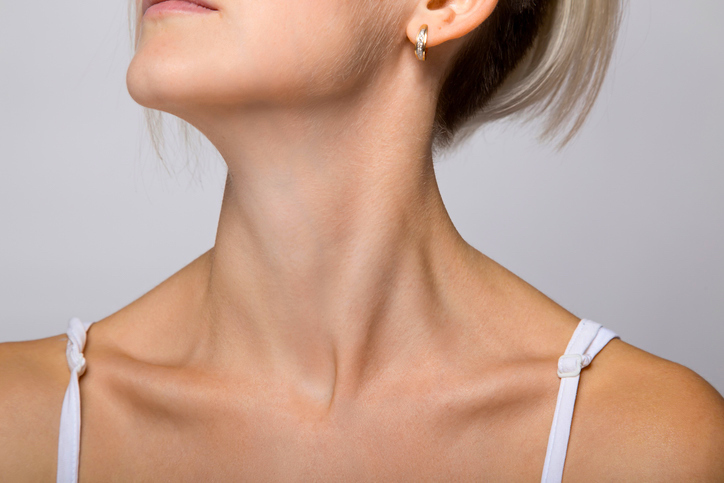 Kybella is an injectable treatment that eliminates fat from under the chin. Unfortunately, the undesirable double chin is a common problem, and while it can be caused by genetics, it can also be brought on by aging and weight fluctuations. This store of fat can be impossible to target, but Kybella is an FDA-approved and effective solution. Kybella contains deoxycholic acid, and when injected into the submental fat it destroys these pesky fat cells, which are then eliminated through the body's natural processes. [1] If you feel surgery isn't for you and prefer a minimally-invasive treatment without incisions or downtime, then a Kybella treatment is a great option.
DermFX is here to provide you with the best aesthetic services available in Southern California. We pride ourselves in providing affordable, non-surgical beauty solutions, and the results speak volumes. Schedule your consultation today, where we will discuss your beauty goals and outline a personalized treatment plan for a healthy, youthful glow. Reach us at:
Before and After Photos
About Kybella
Modern medicine has led to better treatments and a greater understanding of how facial structures work. However, non-surgical facial enhancement offerings were slim until the last few decades. Procedures for fat removal were limited to surgical options like liposuction. [2] These were often cost-prohibitive, involved drastic incisions, and required extensive recovery. That is not the case with Kybella!
In 2015, Kybella or deoxycholic acid (DA) received FDA approval to reduce submental fat. DA is a naturally occurring substance found in our bodies. It helps with cholesterol metabolism and the breakdown of helpful vitamins so that we can absorb nutrients. [1] When injected into the subcutaneous fat, Kybella works to destroy fat on a cellular level. Once destroyed, helpful macrophages do their part to clear damaged fat cell fragments from the body through a natural elimination process. [2] As a result, double chins are gradually eliminated without the need for invasive measures and extensive downtimes.
Benefits
Kybella is an effective injectable treatment that effectively provides a slimmer chin profile. Not only that, you'll see additional benefits, including:
No need for incisions, visible scars, or lengthy recovery time
Usage of a naturally occurring substance to break down fat
Quick procedure that takes under 30 minutes
Provides a stronger, elegant chin and jawline
Provides impactful, long-lasting results
Ideal Candidates
Kybella has helped men and women achieve a stronger chin and jawline without surgery. While it has helped countless patients, there are a few items to note when considering treatment. They include:
Being 18 or over
Have good skin elasticity with mild to moderate amounts of fat in the treatment area
Having trouble losing the fat with exercise and dieting
Are not currently pregnant or breastfeeding
Looking to correct visual inconsistencies in the chin and jawline with an easy injectable
Personal Consultation with DermFx
For nearly 20 years, we have been offering affordable, advanced treatment to the Southern California area. DermFX is a locally owned and operated aesthetic practice that provides competitive pricing, unwavering customer service, and of course, outstanding results.
Your one-on-one meeting with one of our nurse injectors will give you the chance to learn more about the treatment's benefits. We'll discuss your aesthetic goals and examine the lower portion of the face to determine the cause of your double chin, and to ensure that Kybella is right for you. If Kybella can meet your needs, then we will go ahead and schedule your treatment. Before your treatment, however, our staff will provide you with a short list of pre-treatment instructions to follow before you come in for your session.
Come to any one of our tranquil offices in Los Angeles or Orange County for an informative appointment. You can make one online or by calling (562) 592-5100 (Sunset Beach), (714) 516-9588 (Orange), (949) 548-8812 (Newport Beach), (949) 487-5180 Dana Point, or (310) 316-2100 (Redondo Beach).
Preparation
Preparation for your Kybella treatment is minimal! Therefore, all we ask is to discontinue the use of NSAIDs and blood-thinning medications to minimize bruising. Because Kybella causes swelling that peaks in the first few days after injection, you may want to schedule your appointment accordingly. For your convenience, come to the office without makeup or moisturizer.
Procedure
Before your session, the treatment area is cleaned, and if needed, a topical numbing agent is administered to minimize discomfort. Then, our nurse injector will administer the Kybella into the area under your chin in a series of evenly spaced injections. Kybella will eliminate these superfluous fat cells over the following weeks. You'll be free to leave after your quick 30-minute session ends, and able to continue your day. Depending on your treatment plan, you may return for an additional sessions every 6 weeks to continue the progress achieved after your first session.
Recovery
Slight stinging, numbness, and bruising may be felt after treatment. Swelling is a normal side effect of Kybella, and can last a few weeks after an injection session, but typically lessens in severity after the first injection session. [1] These symptoms can be reduced by applying a cold compress and taking acetaminophen.
Results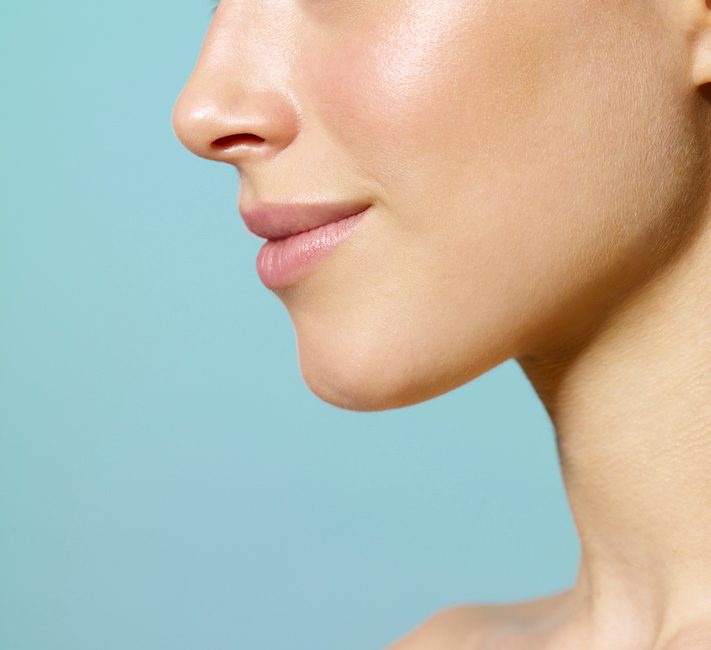 Kybella provides discreet, gradual results— without all the drawbacks of surgery. Results will begin to show slowly but surely in about six weeks after your injection session, and most patients need at least two sessions to see results. Kybella is approved for up to six sessions, which need to be scheduled approximately six weeks apart in order to avoid causing further inflammation. That may seem like a long time, but Kybella is worth the wait. Once you've finished a course of Kybella injectables, you'll see a more defined chin, and overall slenderer appearance to the face and neck. [3]
We love hearing from patients! Showcase your results by tagging us on Facebook and Instagram.
Corresponding & Complementary Procedures
DermFx is proud to provide patients with many choices to achieve their ultimate aesthetic. At your consultation, we may suggest other treatments that target different areas.
Injectables
Kybella is just one of many injectable treatments DermFx offers. These treatments provide quick relief from facial lines and wrinkles. Like Kybella, these injectable treatments are administered in key areas to restore volume, diminish wrinkles, or eliminate cellulite for a smoother complexion. We offer:
Smoothbeam Laser
The Smoothbeam laser is a versatile skin treatment that addresses a variety of skin concerns. The laser energy activates collagen production while using cooling energy to protect the skin. Smoothbeam also alters the way sebaceous glands cause acne to form. With additional sessions, patients will begin to see less acne, and diminished scars and wrinkles.
CoolSculpting
Patients looking to highlight the abdominals, chest, legs, and thighs without surgical intervention can do so with CoolSculpting. The procedure utilizes cryolipolysis, a process that subjects stubborn fat deposits to freezing temperatures that destroy fat cells without causing damage to the surrounding tissues. Gradually, the damaged fat cells are flushed from the body, revealing slender contours.
Skin Care Products
Following a good skincare routine is one of the most important things patients can do to maintain pristine, youthful skin. We have a comprehensive collection of skincare products proven to provide outstanding results for all skin tones and textures. You will have expert guidance to hand-pick your selection of products that address:
Aging Skin
Acne and Acne Scars
Sensitive Skin
Dry Skin
Hyperpigmented Skin
Cost of a Kybella Treatment in Southern California
Pricing for your Kybella is based on your needs and so the total cost of your treatment with Kybella may differ from those of other patients. The amount of injectable and number of sessions required will determine your final cost. DermFx is pleased to offer competitive prices for excellent care. You can take a look at our pricing menu to get a sense of your anticipated costs. Usually, Kybella costs $350/cc. We also encourage you to take advantage of huge savings by looking at our specials.
FAQ
How many Kybella treatments will I need?
Most patients will find the aesthetic they're looking for in 2-4 sessions. However, each patient is different, and the only way to understand how many treatments you need is to schedule a consultation with us.
What does Kybella treat?
Kybella treats excess fat underneath the chin that causes a double chin. It is an excellent alternative to invasive surgery or liposuction. 
Is Kybella painful?
As with any injectable treatment, there may be minimal discomfort. However, we'll do everything we can to mitigate pain. Before starting the procedure, you may be given a topical anesthetic to alleviate discomfort. 
Can Kybella eliminate the appearance of a double chin?
A Kybella treatment eliminates double chin for patients with mild to moderate conditions. However, those with extenuating cases of excess fat and skin may be recommended to consider other options, including surgery.  
References
Kirk, D. S., Gart, L., & Ferneini, E. M. (2016). Deoxycholic Acid Injection for the Reduction of Submental Fat in Adults. Journal of Oral and Maxillofacial Surgery, 74(9), e53. https://doi.org/10.1016/j.joms.2016.06.091
Shamban, A. T. (2016). Noninvasive Submental Fat Compartment Treatment. Plastic and Reconstructive Surgery Global Open, 4(12 Suppl), e1155. https://doi.org/10.1097/GOX.0000000000001155
Shridharani, S. M. (2019). Real-World Experience With 100 Consecutive Patients Undergoing Neck Contouring With ATX-101 (Deoxycholic Acid). Dermatologic Surgery, 45(10), 1285–1293. https://doi.org/10.1097/dss.0000000000001811