Laser Hair Removal
Conveniently located to serve the areas of Sunset Beach, Newport Beach, Redondo Beach, Orange and Orange County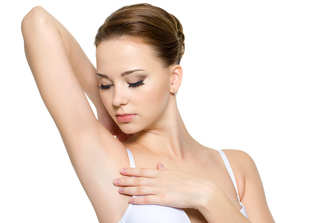 Introducing The Latest Technology in Laser Hair Removal the "LightSheer Duet" Only at DermFX. Combined with innovative vacuum technology and its dramatically-increased spot size, the NEW High Speed LightSheer offers a more pleasant and efficient option for hair removal. This is great news for both men and women, since backs and legs can now be treated comfortably in about 15-20 minutes, with no need for topical anesthetics or messy treatment gel.
The Larger spot size enables greater depth of penetration for improved absorption of energy at the target follicle. The result is a more efficient and speedy treatment!
The new High Speed LightSheer produces a larger beam of highly concentrated light. The light emitted is well absorbed by the pigment located in the hair follicles (melanin). During the hair removal procedure, the laser pulses for a fraction of a second, allowing the hair to absorb the light and heat up. As the hair follicle heats up, the hair shaft and bulb are damaged. This damage significantly reduces the hair's ability to re-grow, and results in permanent hair reduction over time.
About
The Duet offers two new hand pieces for improved efficiency and patient comfort as well as shorter treatment times.
Though there are many ways to remove unwanted hair (such as shaving and plucking), lasers are the only permanent method of hair reduction. Also, a large area of the skin can be treated via laser at one time, making the procedure faster and even more cost-effective than waxing or electrolysis.
The laser uses a beam of light which penetrates the skin and is absorbed by the pigment color in the hair where it is converted to heat.
This heat travels down the hair shaft to the hair root and destroys it so that further hair cannot grow.
Because hair has different growth phases and the treatment only works in the active growth phase, several treatments are necessary to achieve a lasting result.
The number of treatments needed will depend upon the hair density, color, skin type and treatment area, together with ethnic background and hormones.
Typically 5 to 8 treatments are required for light skin and possibly 8 to 10 treatments with darker skin.
Many lasers used for laser hair removal cannot be used in darker skin types as they burn the skin, but at DermFx we have the latest laser hair removal system, The LightSheer Duet, which works better on darker skin types.
As the treatment depends on the laser energy being absorbed by the pigment of the hair, it is not possible to treat white, grey, platinum blond or very light shades of hair by laser without pre-treating with a product called Melidine (a product that can be purchased at DermFx).
Benefits
More effective so fewer treatments may be needed
No anesthetic required
No messy gels
No more painful treatments
75 % faster treatment times (can treat a full back in 20 minutes)
Now able to treat darker skin types.
High-speed integrated vacuum-assist technology
Eliminates prep time
Candidates
There is an ideal skin tone and hair color for laser hair removal, but that does not mean everyone else is excluded. The ideal candidate for laser hair removal is someone with fair skin, and darker, coarser, hair. You should avoid tanning or sunburn prior to the procedure. The most unsuccessful candidates for laser hair removal are those with red or blonde hair and darker skin tones. Call our office to set up a free consultation.
Cost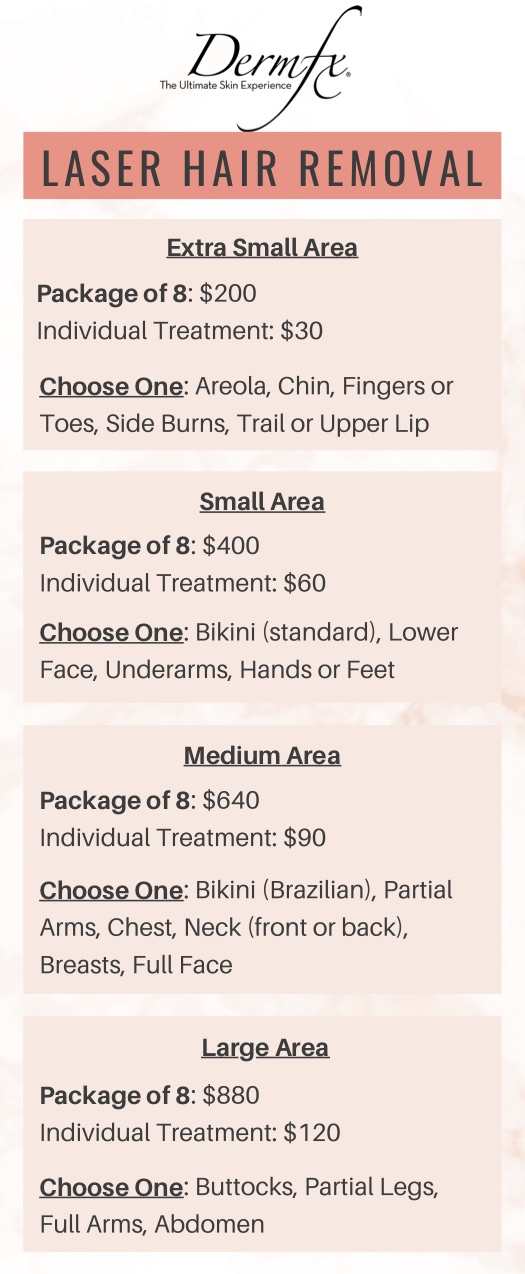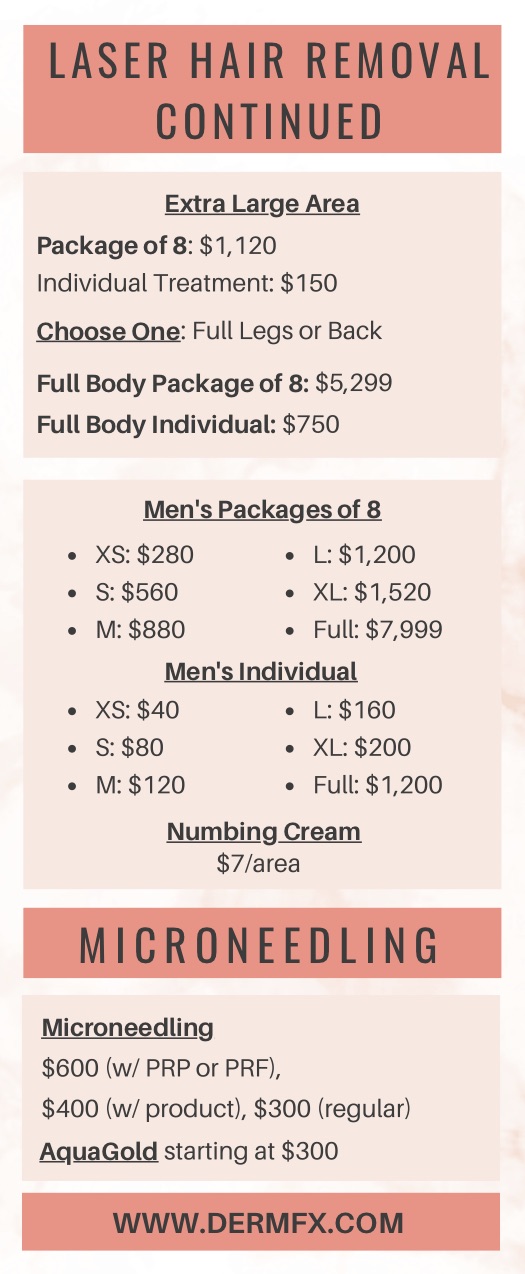 FAQ
HOW MANY SESSIONS WILL I NEED?
On average, a good candidate would need between five and 8 sessions to see significant results. The number of sessions depends on various parameters, including the area of the body treated, skin color, coarseness of hair, and sex. Coarse dark hair on light skin is easiest to treat. A series of treatments should be spaced at 4–6 weeks apart for most cases.
IS LASER HAIR REMOVAL SAFE?
Yes, the FDA has approved laser hair removal as a safe means of permanent hair reduction. The laser settings used are individually chosen for your skin type and hair color to minimize the risk of any significant skin reaction.
IS LASER HAIR REMOVAL PERMANENT?
Yes, laser hair removal is a permanent hair reduction procedure. Though, it is always possible for new hair to grow after any form of hair removal treatment. However, laser treatment is the nearest we can get to achieving excellent long-term results. Occasionally it is possible to see the re-growth of small amounts of hair over a period of time, but this is usually weaker and lighter in color and can be treated again if necessary.