At Dermfx, we're beyond excited to introduce the latest injectable – SkinVive by Juvederm! This is a revolutionary hyaluronic acid microdroplet injectable. SkinVive is unlike any other injectable; it's the first and only solution specifically designed to enhance cheek skin smoothness, leaving you with a radiant, hydrated, and refreshed complexion.
What is SkinVive?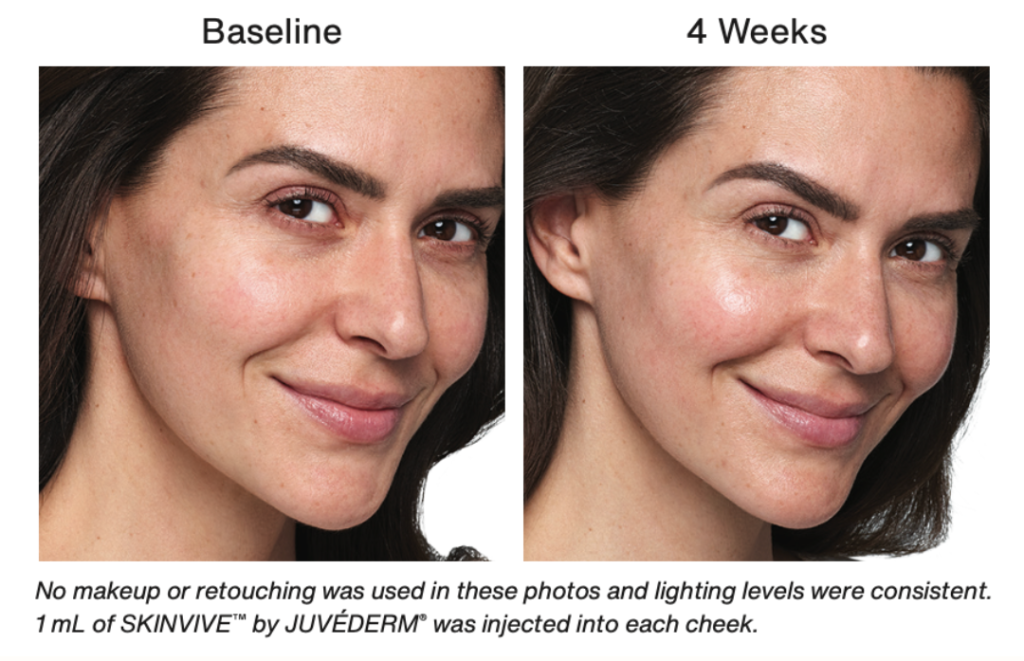 SkinVive is a groundbreaking injectable that combines the proven expertise of Juvederm with a unique, targeted approach to enhancing your natural beauty. This innovative injectable is specially formulated to improve the smoothness of your cheek skin, ensuring that you'll be glowing from the inside out.
The Power of Hyaluronic Acid
Hyaluronic acid is a naturally occurring substance in our bodies, known for its hydrating and plumping properties. By delivering tiny microdroplets of hyaluronic acid precisely into the cheeks, SkinVive helps you achieve the youthful, radiant skin you've always desired.
What to Expect with SkinVive
After getting SkinVive, patients often report incredible improvements in their skin. Here are some key benefits you can expect:
Glowing Complexion: SkinVive enhances the radiance of your skin, leaving you with a healthy, youthful glow. Say goodbye to dull, tired-looking skin.
Hydrated Skin: Hyaluronic acid is famous for its ability to lock in moisture, resulting in deeply hydrated skin.
Refreshed Appearance: SkinVive's unique formulation helps refresh your appearance by smoothing skin texture, giving you a more youthful and rejuvenated look.
Results
One of the most exciting aspects of SkinVive is that you don't have to wait long to see the results. Typically, patients notice the positive changes at one month after their treatment. The benefits of SkinVive can last for up to six months, making it a practical and effective option for maintaining your radiant look.
SkinVive by Juvederm is an exciting addition to the array of rejuvenating treatments available at Dermfx. If you're looking to enhance the smoothness of your skin, experience a radiant glow, and enjoy the benefits of hyaluronic acid, SkinVive is the treatment you've been waiting for. Schedule your complimentary consultation today and discover how SkinVive can transform your skin, providing you with a refreshed, youthful appearance that lasts for months.